4KOR HEALTH
CBD RECOVERY STICK
Why the 4KOR CBD Recovery Stick? Whether you're an athlete or simply someone looking for relief from the aches and pains of an active lifestyle, our THC Free* CBD Recovery Stick provides an effective way to feel relief from muscle, joint, and nerve pain.  At 4KOR Health, we've tested and researched the absolute best and most soothing topical ingredients to help you address muscle discomfort, and the result is our brand new CBD Recovery Stick.  We included Cannabidiol and Arnica Montana as ingredients because of their powerful anti-inflammatory qualities. 
What sets this product apart from the others on the market is the inclusion of organically grown, broad-spectrum CBD oil extracted from high quality industrial hemp plants. The Candelilla wax in this balm helps seal the product onto the skin, unlike CBD lotions that can easily rub off or evaporate.  The warming effect of camphor oil meshes perfectly with the soothing, cooling feeling of peppermint oil and menthol.  At 4KOR Health, we've worked hard to source the best ingredients and teamed up with the leading laboratories to ensure that we can deliver the purest product to our customers.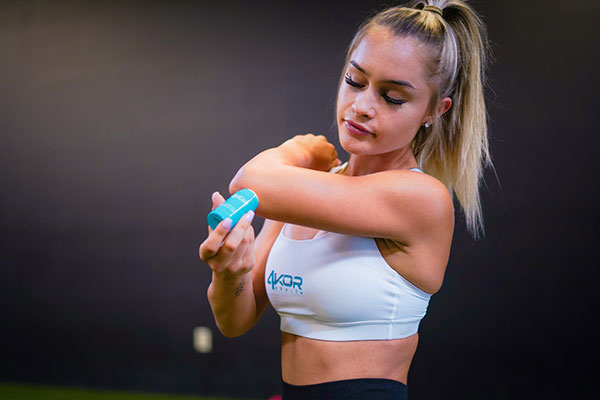 Why should I buy CBD balm from 4KOR Health? From the very beginning, we've made transparency, purity, and quality essential parts of our mission. We work hard to make a CBD product that we can be proud to stand behind – and that you can be confident in using. Still not sure? Our CBD Recovery Stick has a scan-able QR code that leads to a Certificate of Analysis (COA), so that you can know exactly what you're getting.  
RECOMMENDED USE: CBD Recovery Stick by 4KOR Health is extremely easy to use. Just swipe the product on and slowly rub it into the affected area(s). Start small, because this product contains cooling and heating ingredients like menthol and camphor oil. Once you know how the balm feels, you can use more or less depending on the intensity you're looking for. This is an "as-needed" product, so feel free to re-apply as frequently as you want.  Shea Butter and coconut oil are also ingredients in this balm, so you can feel good about nourishing your skin with some moisture and care after a long day of being on the go.
*Our CBD products are batch-tested to ensure no detectable THC. Check out the lab results for your product and see for yourself!  4KOR Health products are derived from industrial hemp and contain less than 0.3% ∆9-tetrahydroncannabinol (THC) in accordance with the regulations set forth in the 2018 Farm Bill.